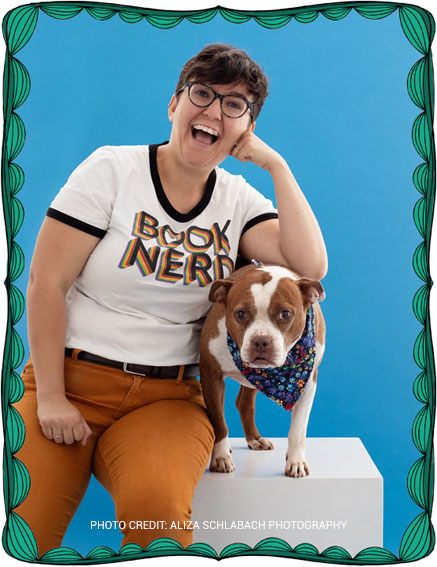 Gina Loveless isn't very good at writing about herself in third person, but oof — here we go!
Gina Loveless has written for nine year olds to fourty-nine year olds.  For kids, she's the author of the three book, middle grade series Diary of a 5th Grade Outlaw (Epic! Originals/ Andrews McMeel), the first book in the graphic novel series Animal Rescue Friends (Epic! Originals/ Andrews McMeel,), and the first of its kind humorous health and wellness book Puberty Is Gross, but Also Really Awesome (Rodale Kids). Puberty received a starred review by School Library Journal, and was one of their "Best Of Children's Nonfiction" books for 2021. She also contributed three total stories to the Creepy Cafetorium series (Epic! Originals/ Andrews McMeel) which
For adults, she writes profiles and pieces on health for Men's Health and WebMD, has written a personal essay for Catapult, and she was a freelance researcher and fact-checker for MH and Women's Health magazine for five years. She recently did some fact-checking for Popular Mechanics and Biography.com. She earned her BA in English from Duquesne University and then her MFA in Creative Writing from California Institute of the Arts.
Her mission as an author and writer is to help all the "weird" people of the world feel less alone and to destigmatize the conversation around mental health and mental illness.
Last, but not least, Gina is proudly represented by Alec Shane at Writers House.
When she's not writing or reading, Gina can be found working at her local library, boogying at concerts with her husband, learning to draw, or snuggling with her rescue dog Sasha.
The photos on this website are not of Sasha, they are of Gerdie. Gerdie passed away in November 2022. This website remains in tribute to her, as she was one of the best doggos to ever live.
6 Totally Random Facts About Gina:
She's lived in every state that begins with a C. Now she lives in a state that begins with a P and a city that begins with a C!
In 2008, Gina was part of a documentary crew that followed two motorcyclists traveling across the country on back roads. They made it through 17 states in 27 days. It was as crazy as it sounds. Here it is in all its glory!
Also in 2008, Gina lived in Boulder, Colorado, where she went to Naropa University's Summer Writing program in the Jack Kerouac School of Disembodied Poetics and took classes lead by Beat Generation legend Anne Waldman, poetry legend Harryette Mullen, and New Narrative legend Dodie Bellamy.
In 2011, she purchased and then restored a Chandler & Price Pilot Press, which is a tabletop letterpress.
A few years ago, Gina received an arts grant to yarn bomb a local music festival. With the help of friends and family, they created over 40 pieces that were displayed across fields and hung from trees.
2013 was the first year Gina tried her hand at growing a produce garden. Everything died except the Swiss chard. Every year since, she's grown a garden, getting her green thumb greener, and in 2019, she successfully grew: broccoli, purple cabbage, Brussel sprouts, kale, collard greens, three types of tomatoes, basil, yellow and red bell peppers, parsley, eggplant, piu piu peppers, cayenne peppers, okra, habanero peppers, and tabasco peppers.