Puberty Is Gross, But Also Really Awesome
March 23 2021, Rodale Kids, a Random House Children's Book imprint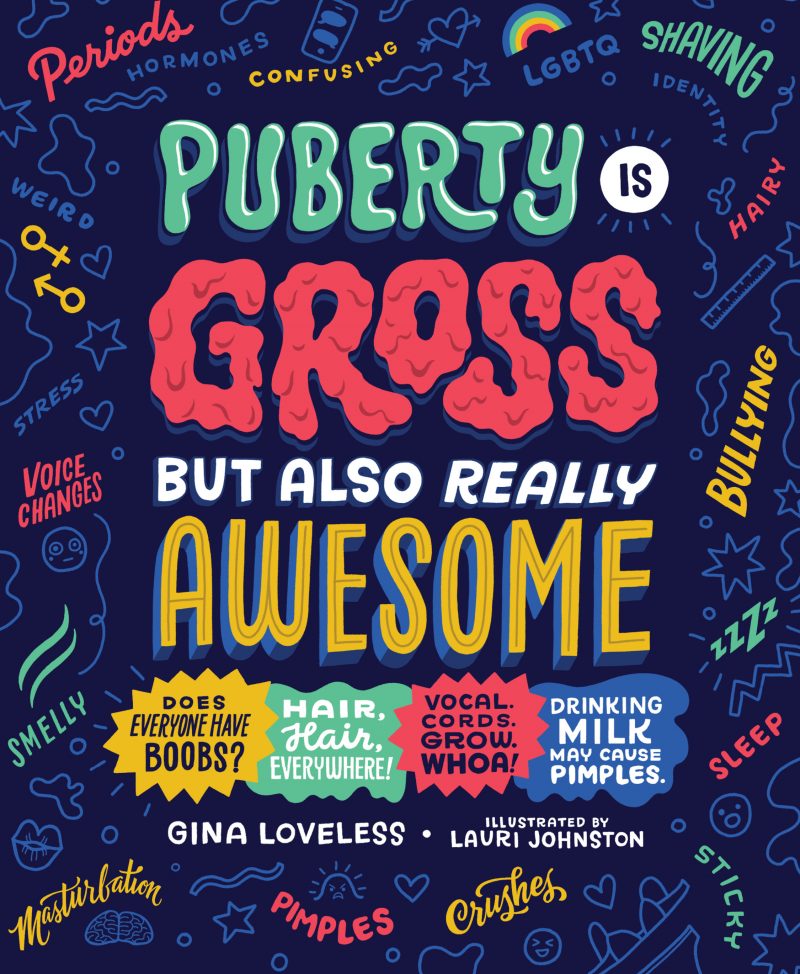 A first-of-its-kind inclusive puberty guide that celebrates the good and completely awful parts of puberty. Filled with jokes and countless facts to put this stage in perspective – this book is bound to be every kid's new best friend!
Puberty…it's pretty gross for pretty much everyone. It's a smelly, hairy, sticky, and (worst of all) totally confusing time! But did you know there's a lot about puberty that makes it REALLY AWESOME?
Get the whole picture with this honest, humorous, and empowering survival guide to the tween years. Packed with easy-to-understand scientific information, interesting studies, and tips from experts, this book covers everything from breast development and gender identity to acne and mental health.
No matter your gender, sexuality, or race, this book is for you. With straightforward illustrations and an author who doesn't shy away from the tough stuff, this utterly modern take on puberty is the resource this generation needs! Welcome to modern puberty – it's transformative, kind of gross, but undeniably AWESOME!
Media:
The Best Puberty Books For Your Growing Kiddo – Book Riot
Parents Need To Start Talking About Puberty Early – CNN
Excerpt from School Library Journal's Starred Review:
A must-have puberty survival guidebook for tweens and teens, this is a perfect choice for collections in need of health titles that use gender-inclusive language.
Excerpt from Kirkus's Review:
An inclusive and humorous approach to puberty, plus strategies for coming out of it your best self.
More reviews:
Loveless offers a friendly, entertaining voice as she addresses questions about puberty that kids need answers to but may be reluctant to ask their parents or teachers—and in an affirming way that invites readers in, whether they're straight, cisgender, queer, or questioning. Informative and inclusive, this is a must-have for personal collections, classrooms, and libraries. —A. J. Sass, author of Ana on the Edge
I could've used this amazing book twice in my lifetime, as a kid myself, and as a mother. Loveless has managed to capture lighthearted humor, in-depth research and full inclusivity in this 'perfect for all' guide to puberty. —Nicole Valentine, author of A Time Traveler's Theory of Relativity
Hilarious, inclusive, and highly informative. A much-needed book about ch-ch-ch-changing bodies for today's generation. I wish I had a book like this back in the day to assure me that not only was my body normal, but my feelings and identity were normal too. . . . Parents, this is the go-to manual you'll want to share with your kids. —Kit Rosewater, author of The Derby Daredevils series
Marvelously inclusive, bursting with humor and fun factoids, and packed with thoroughly researched, reassuring knowledge. . . . I've never read a puberty book so dedicated to gently reinforcing body positivity and self-love on every page. It's the book I'd want my kids to have in their toolbox as they embark on the lifelong journey that is getting to know yourself, your body and your orientation across all arenas of our wide and wacky world. —Alyssa Zaczek, author of Martin McLean, Middle School Queen
Tween me needed this. Parent me needs this. A perfect book for navigating puberty for kids and parents alike! —Shannon Doleski, author of Mary Underwater
This is the book I wish I had when I was going through puberty AND the book I wish had as a parent when my own kids were going through puberty. From bodies, to behavior, to bullying, this is the quintessential 'visitors guide to puberty'. Honest, funny, fun, and deeply educational (I'm 48 and I learned a ton!), Gina has created THE road map for pre-teens, teens and adults to navigate the chaos and confusion that is puberty. —Joe McGee, author of the Junior Monster Scouts series
As an author with a ten-year-old non-gender conforming child, Puberty Is Gross, But Also Really Awesomeis a book I wish I'd had when I was growing up, and a book I wish all children (including mine), could have access to. From the artwork to the fonts to the super inclusive content, this book is chock-full of useful information for EVERY child, no matter their gender, race or sexual orientation. —Tanya Guerrero, author of How To Make Friends With The Sea
Gina Loveless has created an invaluable resource for parents trying to figure out how to answer the sensitive questions. This is a thorough but fun and accessible read that cares deeply about making every child feel unafraid of their own developmental experience, and talking to, not down to, any and all kids who might pick it up. —Sarah Allen, author of What Stars Are Made Of
Gina Loveless has given us the puberty survival handbook we all needed as teens. It's inclusive, empowering and often laugh-out-loud funny. Loveless tackles everything from periods to gender identity, all while reassuring her readers that puberty can actually be really awesome. File this title under: Must Read. —Rebecca Siegel, author of To Fly Among The Stars
An inclusive, humorous and yet sensitive guide designed with fun in mind. . . . The conversational, confident tone makes it possible for any child to pick it up, find themselves in the pages and laugh, while also understanding they are not alone in this sometimes uncomfortable stage of life. —Jess Rinker, author of The Dare Sisters series
Puberty may be gross—but it's easier to understand than ever before thanks to Gina Loveless and her comprehensive, inclusive guide. This book will answer pressing questions about puberty and prompt important discussions about what it means to grow up. Any tween who is currently experiencing puberty needs their own copy. —Sarah Kapit, author of Get A Grip, Vivy Cohen!
Photos and marketing information may be reprinted for publicity purposes.