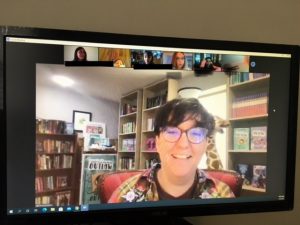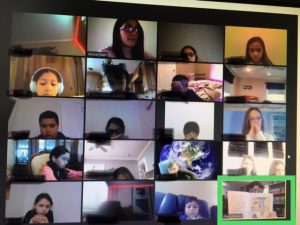 Gina would love love love love love to visit your school or library—virtually, or in person!
Have your children read or would they like to read Diary of a 5th Grade Outlaw? If so, Gina will talk to your kids about diary-style books and have them come up with a name for their own diary-style book. She can get them laughing as they come up with titles for fake diary books for other characters like Elsa from Frozen or Dory from Finding Nemo, and then, through the power of a mad-libs-like process, write their own fictional diary entry.
Or maybe you'd prefer your kids just hear Gina read from one of her books and then answer questions about being an author, writing, and everything in between. That's her favorite!
No matter what will work for your children, Gina strives to make the time spent in your classroom or library fun, interactive, and engaging.
Contact Gina here to set-up your school visit today!
Looking for resources for your classroom for Gina's books? 
Resources for Diary of a 5th Grade Outlaw:
https://www.ampkids.com/wp-content/uploads/2020/09/outlaw_yearbook.pdf
https://www.ampkids.com/wp-content/uploads/2020/04/outlaw_activity_indoor-activities_v3.pdf
Resources for Puberty Is Gross, But Also Really Awesome:
https://penguinrandomhousesecondaryeducation.com/wp-content/uploads/2023/01/5219_Thematic-Guides_Student-Wellness_2_Middle-School_V1-1.pdf
Resources for Animal Rescue Friends:
https://www.ampkids.com/wp-content/uploads/2021/11/Animal-Rescue-Friends-Boredom-Busters.pdf
Read what are teachers saying about Gina's school visits:
"Gina's virtual author visit was magic that brought my class to life! She had a way of connecting with students of different backgrounds, letting them know that being a little weird and different is a strength. Her energy and passion came through as she read her book, talked about the writing process, and answered student questions. Gina has inspired a new generation of writers. My students haven't stopped talking about her visit. They were able to connect with the author of some of their favorite books. Thank you for an unforgettable day!"
Sarah S., 5th Grade Teacher, Texas
"Gina's virtual visit was a delight for our students.  She graciously answered every question the students had about the writing process, and she even offered advice about life too.  Our students had a blast with Gina, as she has a very agreeable way of talking to students, giving them important information in a fun way.  The students are certainly interested in reading her books now!"
Bernadette V., librarian, Western Hill Elementary, TX
"Gina Loveless was amazing during our school visit! The students not only learned about her as an author but they also learned about her as a person. After the visit we had a number of classes create their own books in the classroom just like she did."
Kelly, Core Reading Specialist, Virginia
"My 4th grade class had a blast during our author visit with Gina for World Read Aloud Day. She was engaging, funny, and my class loved hearing her read aloud from her book: Diary of a 5th Grade Outlaw. Our district uses the Epic! reading platform, so the kids were surprised to know they could read Gina's book on there! Gina thoughtfully took the time to answer the many questions my students had for her about being an author. It was a great author visit that I know my class will remember forever!"
Alyssa K., Grade 4 Teacher, New Jersey